.... and that's a good thing!
Good Morning WOYWW blog trotters! I'm showing the start of a card for a LOTV challenge. Not much to see is there? Well, if you are interested in Snooping, Peeking, Shingles, Horse Pills and/or Over Grown Gardens.....visit
here
. Julia will tell you all about it - I promise!
I do however have some pretty exciting news to share with you all.
Last week, I received my ProMARKER Ultra-fine Nib attachments (
Yay, some new craft tools - inspiration)
from the lovely
Di
(
thank you so much Di....you are so generous)
.
I didn't want to show them until I had my NEW "Classic Christmas" ProMARKER set. I now own 5 wonderful markers in the Christmas colours of Berry Red, Gold, Holly, Ivory and Aubergine. Soooooo excited about all my new STUFF! Upon receiving the news of the Nib attachments I immediately ordered the new marker set and I Blame You Di and .....that's a good thing!
In honour of this lovely gift, I have made a new button which I want to pass on as a Thank You. It's a button to display on your blog Di and it's in appreciation of your kindness which has caused me to spend a little money to improve my creative tool supply.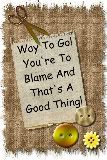 This is in fun and I'm hoping that every time someone sees a stamp, die, ink pad, tool or embellishment or any other item on someones blog that inspires them to increase their craft supply, they pass this button on to the blog owner who inspired them. Go ahead Di and grab that button off my sidebar and enjoy!
Wherever you are in your day, I hope you're enjoying it!
Wishing you many wonderful creations.