What's with Wednesdays? Is there two of them in a week? Three? Sure seems like it! They just keep coming one right after the other, don't they?
For those of you who find Wednesdays just fly by, there are still 17 left in 2011. Hey....that's not the bad news! The bad news is, there are five of them in the month of November.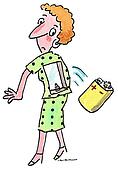 Say it isn't so! September, October and December are going to seem easy compared to November.
If you haven't the foggiest idea of what I'm talking about, click
here
and our crafty battery charger Julia will get you all powered up for a global visit of creativity. It's exhausting hopping from one country to the next with the click of a mouse but she'll get you there quicker than anyone!
If that didn't confuse you.....there's more.
I'm now going to show you what I got with a coupon
and
what's on my desk. Your probably scratching your head right now but you want to see what that coupon got me, don't you? I knew ya did.
Here's the coupon
Here's what it got me......
Aren't they awesome?
I can't wait to use them.
If you want to figure out what I've just been jabbering on about and what other wonderful things happen on other desks around the world,
this
is the place go! You might even find yourself doing the same thing I just did. Really!
Wherever you are in your day, I hope you're enjoying it!
Wishing you many wonderful creations